Why Fitness Trackers Don't Work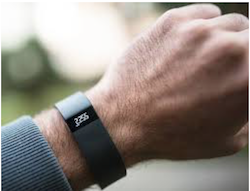 In today's blog post and a companion piece tomorrow, I will give you two reporters' answers to this question. For today's purposes, check this out. What you will read here is a report in EMR and HER that not surprisingly comes at answering this question rather directly from a healthcare perspective. More specifically, the author questions what "work" means in this context. By way of an answer, he suggests that for fitness trackers to "work," they must improve the health of the wearer. Put another way, they must become "clinically relevant." At the present time, the article concludes, fitness trackers simply don't measure up on this criterion.
Sure, there has been talk about patients uploading data from their trackers to their doctors' computers, but so what? Issues here include the question as to who is going to pay physicians to mine these data, and what are they going to do differently as a result of doing all of this work.
Bottom Line. I think John Lynn has this right. The fact that fitness trackers "keep getting better" is not a reason to wear them. It is only when they become clinically relevant that they will move beyond being gadgets and become useful tools.
More on this in our next post!