What Do Millennials Want in Healthcare?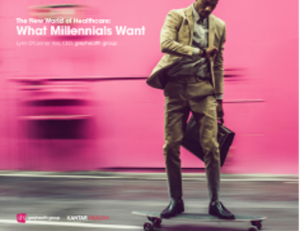 You will want to download
this white paper.
Why the heck wouldn't you???  It is free, well done and offers important insights both general and specific. In the former category, it helps us to understand that "For Millennials, health is no longer just "the absence of illness"- it is a proactive pursuit for wellness that encompasses mental health, nutrition, sleeping habits, and exercise." In the latter category, it shares with us details like 68% of Boomers consider doctors as their best source of information, only 41% of Millennials feel this way!
Bottom Line. There are important shifts in the psychology of healthcare that are going to unfold in 2017. Very nice of Gray to give us these insights into some of them!
But what will you do with these insights???