There Is No Such Thing as Failure!!!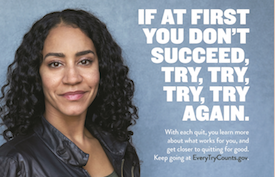 The Psychologist in me really likes this new FDA approach to promoting smoking cessation. Basically, its premise is that there is no such thing as failure in attempts to stop smoking. Either you succeed, or you learn things in the attempt that get you closer to success the next time. Rather than leaving patients with shame and embarrassment after a failed attempt at smoking cessation, this "Every Try Counts" approach seems likely to make patients be more willing to try again. Each attempt a building block to success.
What I really like about this approach is that it is soundly based on Health Psychology. Google James Prochaska's "transtheoretical model." What you will find when you explore this model is that change, e.g. smoking cessation, occurs more as a corkscrew rather than as a straight line. Two steps forward, one step back, until the deal is done. AND. Communications to a particular patient must be based on their "readiness to change."
Bottom Line. As I keep preaching, a good understanding of Health Psychology is a key foundation for executing good patient communications programs. A couple of HP books on the shelf, well read, is a good place for a professional in our vertical to start toward achieving this goal.