THE FOUNTAIN OF YOUTH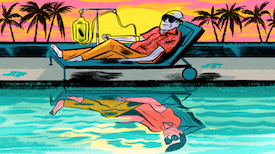 Palm Beach, FL has long been a high society hang out. And, since it is now "The Donald's" home away from home, it has gained additional panache. But
check this out.
Palm Beach is also the home to a physician who claims to be able to slow down the aging process through infusions of "young blood." While the science behind this approach is unclear, the profitability for the doctor seems better defined. Amazingly, he charges almost $200 to come to hear the sales pitch. AND. Those interested in participating in the "study" of this treatment need to be ready to pony up over $200,000 for their place in the recipient line.
Bottom Line. The link I have provided discusses not only this "study," but also numerous other investments that are being made, several by heavy hitters, in age slowing ventures. As baby boomers are increasingly coming face-to-face with their own mortality, there would seem to be a lot of $$$ here for anything that "might" work. Demonstrating efficacy here is obviously not a quick endeavor, and baby boomers are running out of time to wait for incontrovertible science. So interventions that "might" work, even if they look for all the world like snake oil, are going to make this doctor and a bunch of other people a lot of money.
And cost a lot of consumers a ton of money as well!