Please Don't Eat Your Placenta!!!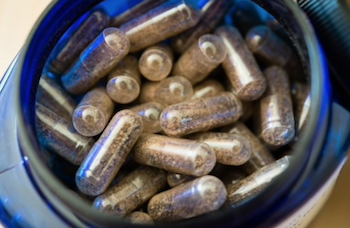 Yup, you heard that right. Check out
this piece
. What you will find is that egged on by some testimonials and endorsements by natural birth practitioners and celebrities, as well as by social media chatter, increasing numbers of mothers are eating the placentas of their newborn children. I know. Yuck!!! BUT. If it is any consolation, they are not eating placenta sushi. Nope. Some midwives have made a side business of drying, dicing and turning placentas into the pills that you see above. I don't know about you, but I am still on Yuck!!! Anyhow, all of this placenta eating is apparently based on the belief that ingesting one's baby cord brings health benefits. As noted in this article, this is not the case. In fact, some significant health hazards can result from the practice.
Bottom Line. SO. What does this have to do with anything? Simple. Practitioners try like crazy to get patients to comply with their sound medical recommendations, often to no avail. BUT. Here we see women, an increasing number of women, eating their placentas based on medical recommendations from such scholars as Kim Kardashian, who reportedly ate her own placenta.
There has to be a learning here someplace. Is it simply celebrity endorsement, the power of which we have discussed before? Or is placenta eating biologically wired through evolution into mothers' brains as this article might suggest? Or some combination of the above???
Figuring out the right answer here could be important as we ponder how we get people to take better care of their health!