Micro-Moments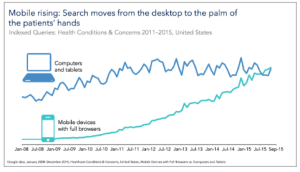 Picture what happens when Google, McKinsey and Wharton team up to bring you an update on healthcare marketing in the digital age. And then publish the results in an ebook that they offer at the price of $0. Curious?
Check it out!
(It's a slow load, but worth waiting for). What you see in this "3D" approach is the imperative that, as an industry, we must
Discover
what patients are really looking for from us in the digital space, we must
Design
programs that meet these needs and then we must
Deliver
them. Consistently! Take the time to read the copy and watch the embedded videos. A ton of valuable insights. For example, read the discussion about Micro-Moments. Great concept. It refers to those fleeting points in time where patients are actually willing to learn, to act, etc. The beauty of the digital media, this report explains, is the ability to
be there
at just these right moments with just the right message.
Bottom Line. As one would expect from the three organizations that put this puppy together, it contains a lot of good direction in terms of what we need to make happen. Finding the organizations/people that have the abilities necessary to actually make it happen seems, based on what I am observing in the marketplace, to be a little bit more challenging.
I'm thinking Wharton is not the place where such abilities reside. Excellence in implementation is seldom found in academia.
McKinsey can tell you a slick story about what needs to be done, but I seldom see big consulting firms actually doing the heavy lifting.
Google? Excellence in a lot of areas, but I'm not sure that they are going to be willing to spend the time and effort on customized patient programs. Unlike Google Search algo's, such programs can only be sold once.
Well then. Who delivers on the excellent vision set forth in this ebook?
How about you?