Another "No Kidding!"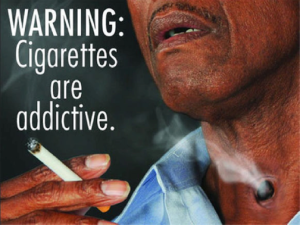 Check this out. Yes Virginia, a picture is worth a thousand words.
More specifically, this piece demonstrates how graphic warnings on cigarette packaging are more likely to get smokers to consider quitting than are verbal warnings.
Ironic, since such graphic warnings were required in the U.S. in 2009. A Federal Court that found that such warnings were tantamount to "browbeating" smokers into quitting, however, and threw out that legislation.
Bottom Line. Interesting. Browbeating, in judicial parlance, may simply equate to using techniques that work.
Time to reconsider this one?